The Official Blog of Craig A. Taillefer: News, Art, Comics, Music, Ramblings, and more!
Archive for July, 2008
Thursday, July 24th, 2008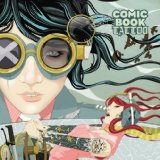 Comic Book Tattoo Tales Inspired by Tori Amos , hit comic and book shops yesterday. If you haven't seen it yet, it is a gorgeous brick of a book at a staggering 480 full colour pages for only $29.99. I got a chance to see it yesterday and I'm pretty impressed with the overall quality and pretty proud to be in it even for a brief 5 pages.
The product desription goes something like this: Over 80 of the best creators from every style and genre have contributed over 50 stories to this anthology featuring tales inspired by the songs of multi-platinum recording artist, Tori Amos! Featuring an introduction by Neil Gaiman and an extensive roster of talent, Comic Book Tattoo encapsulates the breadth, depth, and beauty of modern comics in this coffee table format book.
Full list of contributors include: David Mack, Josh Hechinger, Matthew Humphreys, Jonathan Tsuei, Eric Canete, Jason Horn, Dean Trippe, Sara Ryan, Jonathan Case, Rantz A. Hoseley, James Stokoe, Tristan Crane, Atticus Wolrab, Kako, Nikki Cook, Drew Bell, Kevin Mellon, Jeff Carroll, Mike May, Jeremy Haun, Amber Stone, Leif Jones, Elizabeth Genco, Carla Speed Mcneil, Kelly Sue Deconnick, Andy Macdonald, Nick Filardi, Cat Mihos, Andre Szymanowicz, Gabe Bautista, C.B. Cebulksi, Ethan Young, Joey Weltjens & Lee Duhig, Omaha Perez, Irma Page, Mark Buckingham, Rantz A. Hoseley, Ming Doyle, Mike Maihack, John Ney Reiber, Ryan Kelly, Alice Hunt, Trudy Cooper, Jonathan Hickman, Matthew S. Armstrong, Neil Kleid, Christopher Mitten, Kristyn Ferretti, Stephanie Leong, Sonia Leong, Peov, Kelly Sue Deconnick, Laurenn Mccubbin, John Bivens, Hope Larson, Emma Vieceli, Faye Yong, Chris Arrant, Star St.Germain, Mike Dringenberg, Paul Maybury, Jim Bricker, Craig Taillefer, Dame Darcy, G. Willow Wilson, Steve Sampson, Neal Shaffer, Daniel Krall, Adisakdi Tantimedh, Ken Meyer Jr., Mark Sable, Salgood Sam, Tom Williams, James Owen, Seth Peck, Daniel Heard, Ivan Brandon, Callum Alexander Watt, Leah Moore, John Reppion, Pia Guerra, Mark Sweeney, Kristyn Ferretti, Jessica Staley, Shane White, Ted Mckeever, Chris Chuckry, Jimmie Robinson, Lea Hernandez Derek Mcculloch, Colleen Doran and Jason Hanley.
The press this book is getting is pretty impressive, from mainstream news outlets down to all of the usual comic book news sources. If you saw Comic Shop News a few weeks ago, there was a 4 page cover story on CBT with numerous samples of art from the book, including this page from my story.
Now that the book is out I guess I'm allowed to show more artwork in detail. I'll be uploading the story to my portfolio section some time next week (with the lettering erased) so you'll be able to see the whole thing, assuming you haven't bought the book. And why haven't you bought the book yet? Seriously. Go click on the image up top and you'll even be sending me some extra cash from Amazon for your troubles!
Back to the art! I spent a few minutes yesterday poring over each page in detail. I was a little worried what the art would like like at the 12 x 12 print size as I was only able to print the page out on typing paper to proof it. There are a few minor things I noticed once blown up and printed on photo quality paper, but over-all the story turned out fairly well. As I've mentioned before, the whole story including the style I drew it in to doing a for-print story digitally was all one big experiment for me.
On to the next experiment!